Professional House Cleaning Service In Huntley, IL
Get Back to Doing the Things You Love
Huntley's Favorite House Cleaning Services!
For the best house cleaning services in Huntley, IL, trust Abby Cleaning Service. With years of experience cleaning local homes and offices, we have earned a reputation for exceptional quality house cleaning and customer service. We hire the best cleaners in the business to keep your home or office spotless and sparkling clean.
We offer the following high-quality house cleaning services:
Abby Cleaning Service is the #1 house cleaning service in Huntley, IL. Book a cleaning with us today to see for yourself how hiring a professional cleaning service can save you time, and energy, and improve your life!
Spend your time doing what you love, not cleaning your home!
"*" indicates required fields
With Over 30 Years Of Experience, Abby Cleaning Service Can Guarantee A Clean And Healthy Home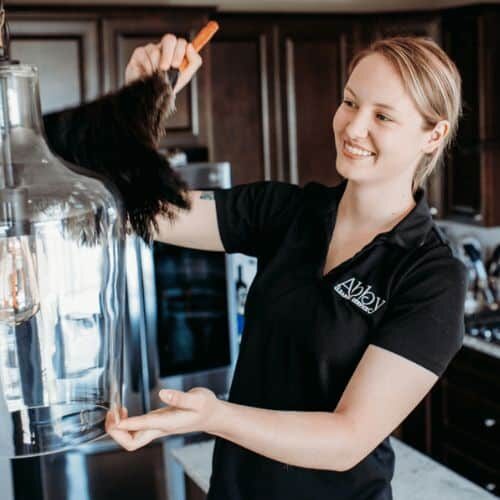 Recurring Maid Services
Schedule weekly, bi-weekly, or monthly maid services to keep your home sparkling clean all year long.
Deep House Cleaning
We offer detailed and incredibly thorough deep cleaning services in Huntley, IL.
Move-In/Out Cleaning
Save time and energy with Abby Cleaning Service's move-in and move-out cleanings in Huntley, IL.
Office Cleaning
Keep your office sanitized and sparkling clean with our top-rated office cleaning services.
because You Deserve The Best!
Eco-Friendly & Effective Cleaning
We recommend our non-toxic and effective, tried-and-true cleaning products to ensure a happy and healthy home.
Trained Staff And Quality Care
We utilize cleaning techniques that have been developed over decades to provide consistently high-quality results.
Abby Cleaning's High Standards
We are a fully insured and bonded company. Every visit is backed by a 100% Satisfaction Guarantee.
Our Clients
Our Service & Quality
Home Cleaning Services Trusted for Generations
We are a local, family owned, second-generation cleaning service with over 30 years specializing in home interiors. Abby Cleaning technicians apply their extensive training, and use of our effective, non-toxic products to make your home sparkle! Our clients' satisfaction is our priority and our guarantee.
- Erik Brady, Owner Of Abby Cleaning Services
"*" indicates required fields
When We Do The Cleaning, You'll Have A Lot More Time To Enjoy Huntley, IL
Hiring professional house cleaning services can save you tons of time. Rather than spending your weekends scrubbing and dusting, you can get out and explore all that Huntley, IL, has to offer, including:
Huntley Farmer's Market: Every Saturday, you can find tons of stalls with all sorts of goodies like fruits, veggies, crafts, and more,. It's a great place to support local businesses and find unique treasures and delicious treats.
Morkes Chocolates: Speaking of delicious treats, Morkes Chocolates makes amazing chocolates, candies, donuts and treats that will satisfy any sweet tooth. Whether you're into classic chocolate bars or fancy truffles, this place has got you covered.
Pinecrest Golf Club: This beautiful course is the perfect place to play a relaxing round of golf with friends or family. Enjoy the luscious greenery, fresh air, and beautiful views.
Most Trusted Local House Cleaning Service
We proudly provide pristine home and office cleaning in the following areas: Algonquin, Cary, Crystal Lake, Huntley, Lake in the Hills, Lakewood, McHenry, Spring Grove, and Woodstock, IL.
The Advantages of Hiring a Professional House Cleaning Company
According to a recent study, over 33% of people believe their homes are not cleaned nearly as often or as thoroughly as they should be. The same survey found that one out of every four people doubt they have the capacity or training to perform this important task.
As time goes on, people get busier and busier. The demanding modern lifestyle requires every minute to be spent on professional, social, and personal obligations and domestic tasks may get sidelined for more pressing demands. This means that the conditions of the home can deteriorate considerably before anyone has the time to address them.
If you have found yourself in the kind of situation mentioned here, don't panic. This is a good time to hire a professional cleaning company that can handle this important aspect of home care and maintenance.
There are many benefits to having your home cleaned by professionals. Whether you choose to call in trained cleaning technicians weekly or monthly, the benefits they provide can improve your home life.
Here are some of the most important benefits of calling in a professional cleaning service.
More Time To Spend With your Family

If you have a home with children, you will certainly notice the interior conditions deteriorate much faster. On top of this, the lives of parents are especially hectic, there are errands to run, homes to manage, and then professional responsibilities that can make cleaning the home almost impossible — and the kids are going to need some materials and help with their homework.

By the time you have the kiddos fed, read, and in bed. The house needs to be cleaned again. Maybe if you just shove the mess into closets and cupboards, you will have time for some social fun and relaxation before you have to call it a night — and tomorrow is Monday!

This is a scenario all too familiar to most modern time-pressed parents, but it is not a life sentence. If you are interested in taking better advantage of your time but are reluctant to live in a disaster, professional cleaning services are the solution for you.

This is because you will save all that time and mental frustration by having your home cleaned by a professional. This will allow you to focus time and effort where it will be most beneficial to you. You can spend more time with the kids, and your significant other, or even just enjoy a cup of tea and a good book.

Decluttering Will Be Easier

One of the most daunting tasks you will face is decluttering. Decluttering is such an onerous task that it always makes the very bottom of any home cleaning checklist. With a host of other tasks taking priority, like dishes, laundry, and bathrooms, decluttering is often relegated to last place until it reaches critical mass and can no longer be ignored.

But if you eliminate all the tough and time-consuming tasks from the equation, the task of decluttering is suddenly so much easier. A cleaner environment makes clutter more obvious and easier to address. What seems like a full day of work, may just take about half an hour without all the rest of the cleaning.

There will be no need to sweep, mop, dust, or vacuum. This allows you to focus your full attention on the task of decluttering your home.

Professional Cleaners Are Efficient And Will Likely Do A Better Job

Have you noticed by the time you decide to clean your home, that the task of a couple of hours now requires a full day to address properly and in good order? With such a wide range of things to be cleaned and a slew of individual tasks to address each one fully, it seems no progress is made despite your most intense efforts and massive determination — and "no" the kids don't want to help!

The professional cleaners can arrive on a regular schedule that will keep your home at a high standard of cleanliness and organization at all times. The value in stress relief itself is through the roof.

Professional cleaners do this thing for a living and have a passion for leaving your home immaculate in record time. A professional cleaner will arrive with a checklist of important tasks that must be done and they will have their process down to a fine science. Your home will be a cheery haven of cleanliness and you will have the time and relaxation level to enjoy it.

Professional Cleaners Can Prevent Mold Growth

When the home's cleanliness and hygiene standards drop, it makes it much easier for smaller issues to go unnoticed and this can result in an array of conditions that can damage the home and its equity. One of the most damaging results of a lack of regular cleaning is mold damage.

Molds are a simple life form that break down materials and make way for more complex plant growth. They reproduce by producing billowing clouds of microscopic invisible spores that are scattered far and wide and need a small amount of moisture — and sometimes — to sprout. Then, they can become a serious hazard to your health and home.

Professional cleaning technicians have the tools and cleaning techniques to avoid this issue and leave your home free of molds and their destruction.

Superior Cleaning Equipment and products

Keeping a home clean is not a cheap task, especially considering the assortment of cleaning products, tools, and agents that are used to keep a home clean. Different areas of the home will have different needs, techniques, and tools, and out cleaning, professionals have the skills to know exactly what to apply in each location and in what quantities.

There is a proper tool and cleaning agent for every task. When tools and agents are applied properly, the surfaces being cleaned are preserved and a small quantity of cleaning agents is needed to accomplish a lot. A cleaning company also has access to superior cleaning products that are biodegradable and leave no residue.

It helps to reduce stress

If you have ever walked into a messy environment, you know how stressful this can be for the mind and spirit. It is hard to even think clearly when your living environment is untidy.

Stress and anxiety are the plagues of the modern age, but like every plague, there is a relief. Keeping your home clean and organized places a high standard on your home life which is important to building resistance to mental disruption.
Hire professional Cleaners Right Now!
Are you ready to experience the many benefits of having a professional cleaner that you can rely on? If so, you can give us a call right now. We have expert cleaners standing by ready and waiting to assist you to clean your home efficiently so you can win back your time and make your home a much healthier place to live.
A Little About Huntley, IL
Huntley, Illinois has a rich history that dates back to the mid-19th century. The area was first settled in the 1830s by pioneers from New York and New England, who were drawn to the region's fertile farmland and abundant natural resources. The town of Huntley was officially established in 1851, named after the local landowner, Thomas Stillwell Huntley. In the years that followed, the town grew rapidly, with the construction of new homes, businesses, and public facilities.
Throughout the 20th century, Huntley continued to grow and evolve, with the expansion of its manufacturing and agricultural industries. The town was also home to several important landmarks, including the Huntley Dairy Mart, a popular ice cream shop that was established in the 1950s.
In recent years, Huntley has undergone significant development, with the construction of new residential neighborhoods, retail centers, and recreational facilities. The town has also become a popular destination for retirees, with the establishment of several active adult communities.
One of the most notable landmarks in Huntley is the Village Inn, a historic hotel that was originally built in 1886. The hotel has been restored and is now open to the public, offering a glimpse into what life was like in the early days of Huntley.
Despite its growth and development, Huntley has managed to preserve much of its historic character, with many of its original buildings and landmarks still standing as a testament to its rich past.
Proudly serving Huntley, IL and nearby areas including within the following zip codes: 60140, 60142, 60156
For The Best House Cleaning & Maid Services In Crystal Lake, Call Abby Cleaning Service Today! We would love to provide you with an awesome cleaning quote!