Professional House Cleaning Services In Spring Grove, IL
Get Back To Doing The Things You Love!
Abby Cleaning Service Is The best-Rated House Cleaning Service In Spring Grove!
If you're searching for top-notch, reasonably priced house cleaning services in Spring Grove, IL, look no further than Abby Cleaning Service. Our team of skilled house cleaners can you keep a sparkling clean home without the hassle of doing it all yourself. We provide the following cleaning services to residents of Spring Grove, IL:
At Abby Cleaning Service, we take pride in offering the highest quality residential and commercial cleaning services in Spring Grove, IL. You can easily request a free cleaning quote by clicking the button below or calling our office. We look forward to hearing from you!
Spend your time doing what you love, not cleaning your home!
"*" indicates required fields
With Over 30 Years of Experience, Abby Cleaning Service can Guarantee a Clean and Healthy Home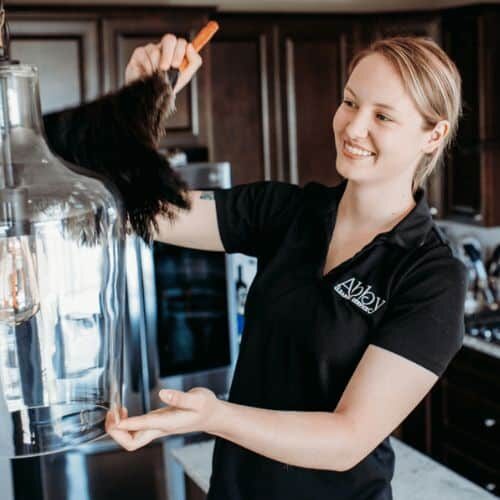 Recurring Maid Services
Abby Cleaning Service provides professional maid services on a weekly, bi-weekly, or monthly basis according to your specific cleaning needs.
Deep House Cleaning
Our deep cleaning service is designed to be incredibly thorough and detailed, leaving your house in Spring Grove, IL, free of all dirt, dust, and debris.
Move-In/Out Cleaning
Moving can be stressful and time-consuming, so we offer comprehensive move-cleaning services to ensure your space is spotless before and after your move.
Office Cleaning
For a clean and germ-free office or commercial space, consider hiring professionals from Abby Cleaning Service in Spring Grove, IL.
because You Deserve The Best!
Eco-Friendly & Effective Cleaning
We recommend our non-toxic and effective, tried-and-true cleaning products to ensure a happy and healthy home.
Trained Staff And Quality Care
We utilize cleaning techniques that have been developed over decades to provide consistently high-quality results.
Abby Cleaning's High Standards
We are a fully insured and bonded company. Every visit is backed by a 100% Satisfaction Guarantee.
Our Clients
Our Service & Quality
Home Cleaning Services Trusted for Generations
We are a local, family-owned, second-generation cleaning service with over 30 years of cleaning homes in Spring Grove, IL. At Abby Cleaning Services, we believe that our professional cleaners are the best in the industry. They receive extensive training to clean professionally using our effective, non-toxic products to make your home sparkle! Our clients' satisfaction is our priority and our guarantee.
- Erik Brady, Owner Of Abby Cleaning Services
"*" indicates required fields
Reliable. Trustworthy. Professional.
When We Do The Cleaning, you'll have more free time to enjoy Spring Grove, IL!
Say goodbye to weekends spent sweeping up dust and cleaning bathrooms, and say hello to Abby Cleaning Service! Our experienced maids will keep your living space looking great and give you plenty of time to explore all that Spring Grove, IL has to offer.
Chain O' Lakes State Park: This picturesque state park is great place to hike, bike, and explore the numerous well-maintained scenic trails. Plus, there's boating and fishing on the lakes, making it the perfect destination for a day of outdoor family fun!
Village Parks: Spring Grove is home to a number of parks that are a great place to relax and unwind after a long week. While the kids play on the playground or run around on the sports fields, you can relax in the shade, have a picnic, and just take it easy. are
Richardson Adventure Farm: Pick your own pumpkins, navigate your way through a corn maze, go flying down a zip line, or go for a charming wagon ride. Richardson Adventure Park has something fun for the whole family!
Providing Clean Homes for Cancer Patients
Abby Cleaning is a proud partner with Cleaning for a Reason, an International non-profit that offers free home cleaning service to cancer patients. We are committed to helping our local community by offering help with house cleaning to those who need it most.
Contact us for more information about this wonderful program through Cleaning for a Reason.
Most Trusted Local House Cleaning Service In Spring Grove, IL
We proudly provide pristine home and office cleaning in Spring Grove, IL and surrounding area including Algonquin, Cary, Crystal Lake, Huntley, Lake in the Hills, McHenry, and Woodstock, IL.